Computer programs included in various Shoemaster® packages serve a wide range of shoe product development tasks (e.g. design, pattern engineering and cutting, costing) in interactive sessions. The Shoemaster® packages incorporate several of the following programs to be used in complex product development projects:
CAD programs
Main stages of the footwear (shoes, mocassins, sandals, boots etc.) product development process and related Shoemaster® programs:
Shoemaster® Creative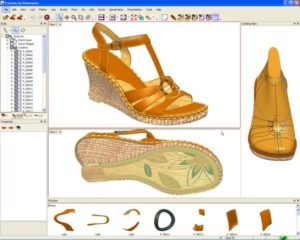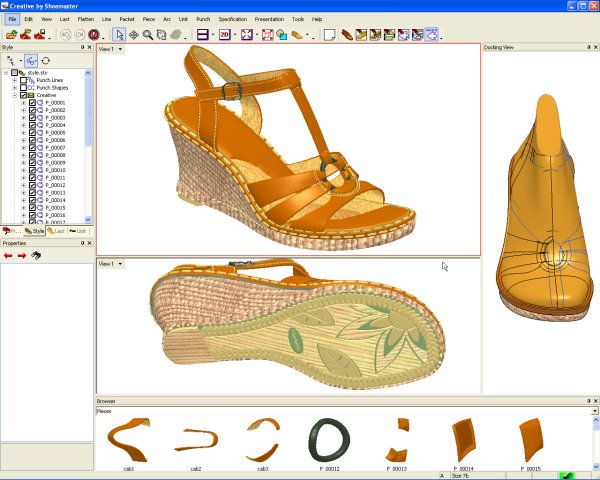 3D design tool to allow creative designers to work in the way they want, providing them with more control over what is finally produced. 3D CAD models can be rendered to produce photo-realistic images of shoes, reducing the need to produce physical samples.
Shoemaster® Classic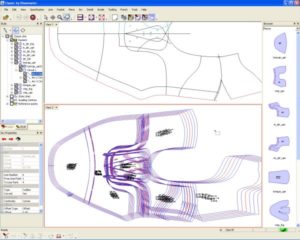 Provides the most traditional form of 2D CAD/CAM technology for shoemakers. The program accurately emulates complex manual procedures such as pattern springing and deadening, moccasin constructions, allowances, style transfer and feather tables.

Shoemaster® Power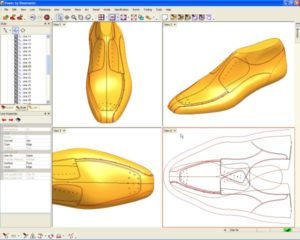 Specifically developed to meet modern shoemaking needs, allowing simultaneous 3D/2D design and pattern engineering. The 3D functionality allows you to encompass more of your existing processes in a virtual environment, reducing the costs associated with re-development as well as maximising the productivity of last making, pattern engineering, and grading departments.

Shoemaster® Interface
A special program module for managing pattern outputs to [suitable sizes/working areas of] printers or plotter-cutters. Component (piece) patterns constructed in Shoemaster® Classic or Shoemaster® Power are automatically arranged on the surface of the paper (this layout may then be modified manually) and the program sends the priting or plotting-cutting commands to the respective connected output device.
CAD packages